IN STOCK: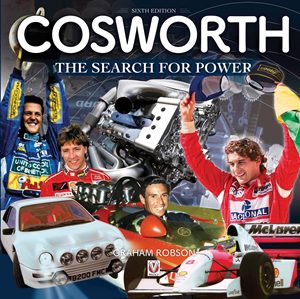 by Graham Robson
Not only has Cosworth designed and supplied many race car engines, which won F1, CART, and many other Championship races, but it has also produced many celebrated high-performance road-car engines. In more recent times, its growing expertise in developing electronic data capture components, and in providing ultra-high-tech engine manufacturing facilities, have made it a world leader at many levels. The expansion continues, and in this book the Cosworth story has been brought up-to-the-minute to celebrate the 50th anniversary of the birth of the legendary DFV F1 engine.
Graham Robson is one of the most experienced, prolific and versatile motoring historians in the world, and is recognized as one of the authorities on anything concerning Ford in motorsport. He watched his first F1 GP – at Aintree – in 1955, and has never lost touch with the cars, the technical trends, and – most importantly – the personalities connected with placing Ford, and Cosworth, at the pinnacle of F1. He was close to Cosworth, both as a working historian, and as a personal friend of the company's senior personalities, throughout the lengthy period covered by the DFV – and considers it an honour to have been entrusted with the compilation of this amazing story.
Hardbound | 256 pages | 312 color photos
Format: Hardback, 256 Pages
$90.00 – ORDER YOUR COPY HERE!