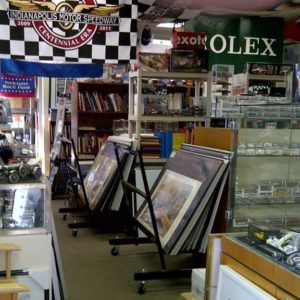 As a major source of high quality products and memorabilia to racing enthusiasts around the world, The Motorsport Collector has promoted the appreciation and preservation of motor racing history for more than 30 years.
Our Gallery in Downers Grove, Illinois is filled with an extensive selection of books, models, artwork, event programs & posters, DVD & VHS media and other ephemera, providing enthusiasts with meaningful additions to their collections and to their knowledge and enjoyment of The Sport.
For many years, we displayed our wares at race circuits around the country, from Lime Rock and Watkins Glen in the East to Daytona and Road Atlanta in the South, Mid Ohio, Road America and Indianapolis in the Heartland and Mazda Raceway Laguna Seca in the West. In recent years, we"ve limited our "road shows" to Elkhart Lake and Indianapolis but we hope to return to some of our old haunts someday.
Our website provides secure online shopping for those unable to experience our Gallery or visit our trackside displays. There are thousands of items available online.
We invite you to bookmark and visit this Blog regularly for information on new arrivals, advance order opportunities and other news and comments. We also suggest you sign up for our frequent Email Updates and visit our page on Facebook
If you love racing, we think you"ll enjoy what we have to offer!
Paul Zimmermann, Founder / Owner