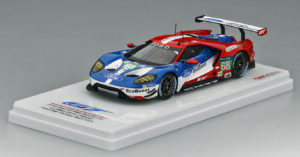 It looks like Spark's 1/43 scale 2016 Le Mans winning #2 Porsche 919 Hybrid and TSM's 1/43 scale Le Mans GTE Pro winning #68 Ford GT are finally 'in country' and should arrive before the 2017 running of the 24 Hours.
Very limited quantities remain on both pieces.
Check our complete 'ETA – June' list for additional information on other June arrivals.